A Brief Introduction to NFTs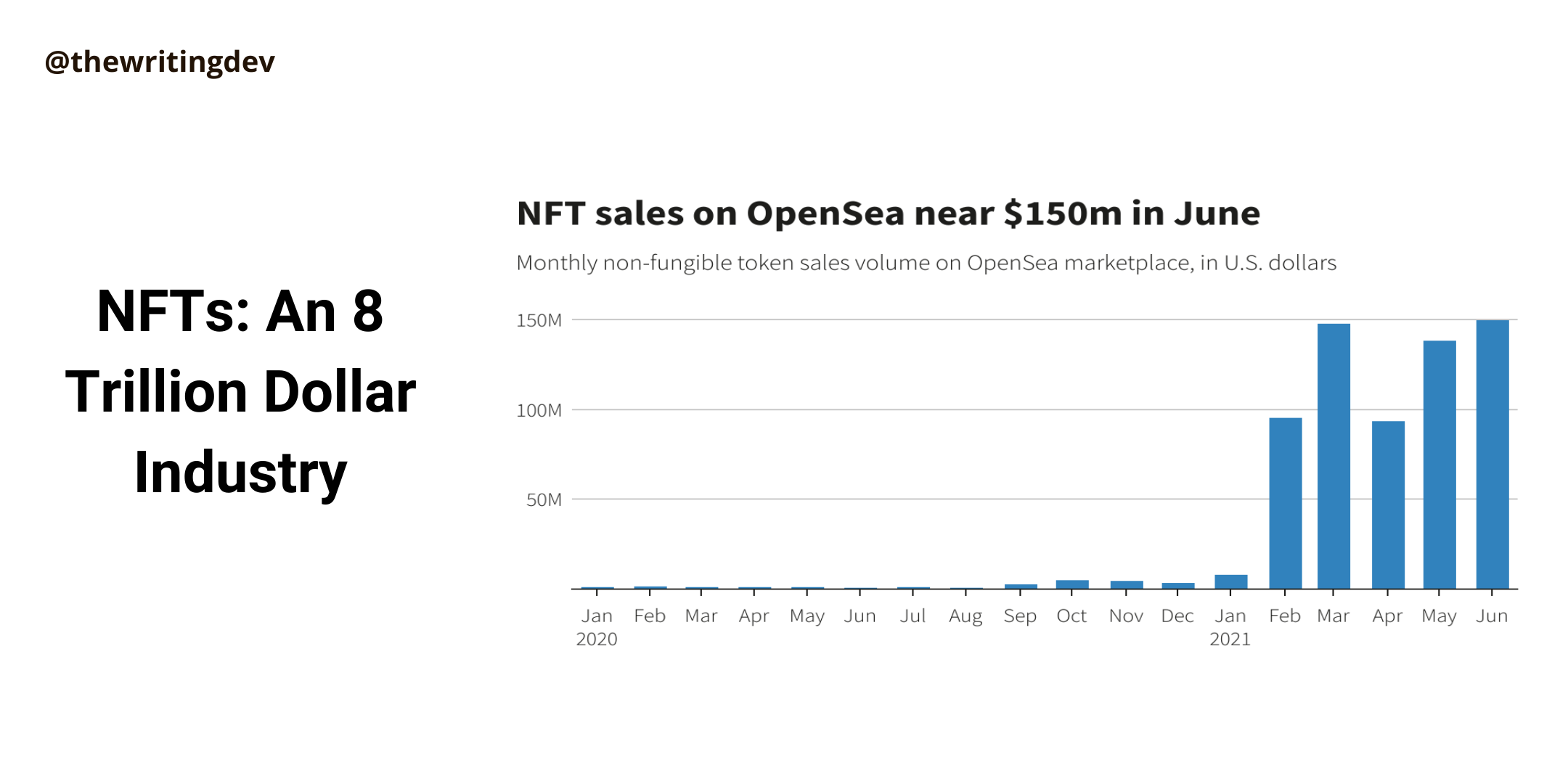 Hey all 👋!
Web3 (the web that runs on blockchains, decentralized servers, and peer-to-peer nodes) is now so large that even newspapers in India are talking about it.
For the benefit of the public, freely sharing some knowledge here based on the research I've done on NFTs: An 𝟴 𝗧𝗿𝗶𝗹𝗹𝗶𝗼𝗻 𝗗𝗼𝗹𝗹𝗮𝗿 Industry.
To read this post in a swipable gallery format, check out the LinkedIn post here:
What are NFTs?
NFTs are units of data on the blockchain, which certifies a digital asset to be unique.
NFTs are used to represent items such as images, videos, audio, and any other types of digital files.
Why should I care?
Traditionally, artists don't benefit beyond the first sale of art. NFTs flip it on its head, allowing artists and traders to profit from continued sales.
NFTs also democratize art and make it more accessible, allowing anyone who can draw or code to participate.
Some top 💸 bagging recent NFTs 👇
Bored Ape Yacht Club (@BoredApeYC)
This collection of Bored Ape NFTs has bagged >20M USD over the past week and nearly 500M USD over its lifetime.
If we consider other Ape initiatives, that amount could very well go into the Billions.

2. The Loot Project (originally by @dhof)
An NFT generated on-chain by a smart contract, The Loot Project generates video-game like loot for adventurers, which can be used in other projects.
There have been several derivatives of loot, making it one of the most successful community-driven NFTs.
The lifetime sales for Original Loot have been >200M USD, a number which would be higher if we consider all its derivative projects as well.

3. Settlements (@the_settlements)
Settlements is a turn-based NFT videogame built upon smart contracts.
While the project is relatively new, it has still had sales volume worth a respectable 31k USD in under a month.
By this point, I hope I have you convinced that NFTs are something you should start learning and keep an eye out for. If you want to learn more or have a discussion, feel free to reach out to me on Twitter or Discord :D
I'll share YT videos and streams on how you can get started with NFTs pretty soon.